Name: Sara Nilsen
Age: 27♀
From: Kristiansund, Norway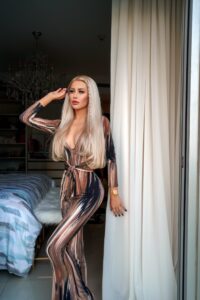 Born November 1992, I lived most of my life in Norway. I've always had an entrepreneurial spirit. I was a riding instructor for kids at age 12 (using my own pony), and started buying and selling horses before I turned 15. At the same age I also started working for my mom as a riding instructor. I have yet to find someone who worked harder than I did as a kid. I never had time to see my friends, but that's something that changed throughout the years!
As a 16 year old teenage girl, I was elected deputy leader of the Norwegian Workers' Youth League in my hometown.  At age 18, I was elected to the City Council and the Planning and Building Council while a member of the Norwegian Labour Party.  I've appeared in various television programs, a couple of music videos and have also done quite a few model assignments over time.
These days I am living in the Dominican Republic with my boyfriend who is from the US. I enjoy an active social life while pursuing my dream of designing and manufacturing products that reveal the natural beauty in girls and women.
My purpose is to help women and girls discover and reveal their inner beauty so that they may lead confident, productive lives.  I believe that my own life experience has uniquely prepared me to live out this purpose. Life is what you make it.
Follow me on instagram @saranilsen for more.